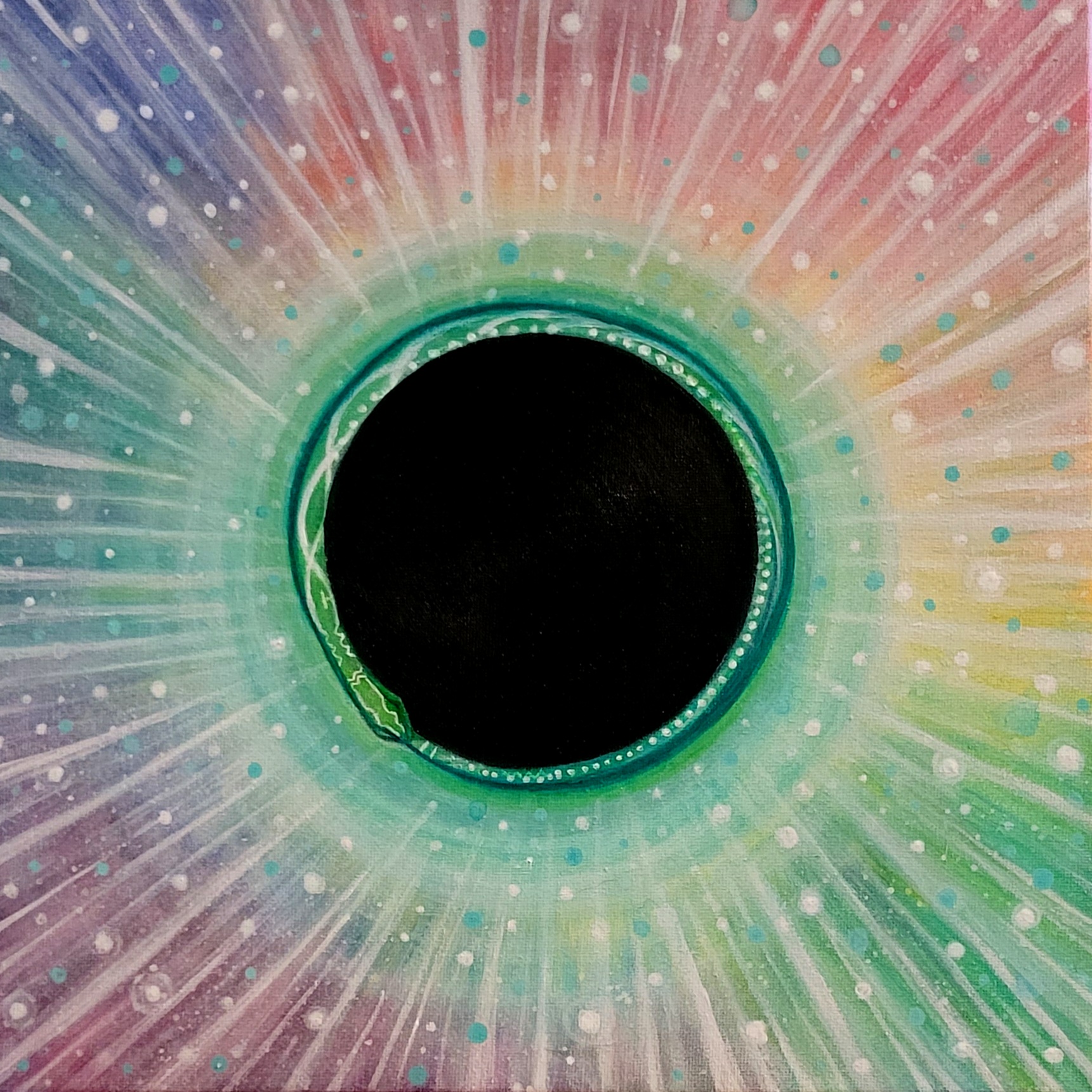 'Memories, Dreams, Reflections 🪞'
By Lisa Marie Persaud
"Ayahuasca visions are said to access the mystical realm of our dreams and connect the vision world and the dream worlds" (Tafur, 2017, p. 178).
A few months ago, I re-read passages of Jung's 'Memory, Dreams, Reflections'— specifically his account of his NDE where he drifted above Earth and saw her bathed in a beautiful blue light. On that night I had a dream of laying gently in a bog dressed in a white gown, where a beautiful green snake slithered over me, unto land, and into a forest. In the dream I realized that this snake had no desire to attack me but wanted me to follow it—it was an elegant, sensitive, and beautiful green snake.
The dream, or calling, was followed by a vision the next day. This painting speaks to that vision—the beautiful snake, like the Ouroboros, formed a healing circle of eternity flooded by beautiful rainbow light.
According to both Jung, and Hillman, the psyche (soul) speaks in symbols— therein, lies a part of me.
This painting is integral to my presence in The River Course, and part of my final assignment.
Thank you Joe @joe_tafur ❤️, Zoe @ms.zoe.helene @cosmicsister 💚, and Courtney @doorwaytherapeutics 💜 for your generosity, kindness, support, and love ✨️🙏🏽✨️❣️
Where do your vision 🌌 and dream ✨️ worlds meet?
Connect with me on Twitter  and Instagram @lmariepersaud
#Psyche #Soulcraft #RiverCourse #JoeTafur
#AccesstoDoorways #CosmicSister
#Memories #Dreams #Reflections #Jung #Hillman
#Shipibo #Ancestors #Rebirth #Visions #Spirit
#Epigenetics #Healing #Spirituality #Love