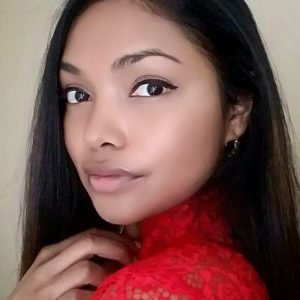 About the Artist
Lisa Marie Persaud is an artist based in Phoenix, Arizona. She was born in Guyana, "the land of many waters", a tiny South American country that borders the North Atlantic coast. Lisa Marie grew up, and spent most of her life in Brooklyn, New York. Her passions include excavations of the mind and the cosmos. She created MorphogenicMe.com in 2013 to share her art and thoughts with the world. Lisa Marie's art is inspired by the human condition, diversity of species on Earth, as well as the heavenly bodies that adorn our universe, and the mysteries that underlie our cosmos. Her art is an expression of the harmony and inter-connectedness that exists between self and other and strives to offer the observer a moment of self-transcendence.
Lisa Marie attended The City College of New York and obtained her Bachelor of Arts degree in Theatre (2009). She received her Bachelor of Science degree in Psychology from Grand Canyon University on April 29th, 2018, and is a lifetime member of Psi Chi, The International Honor Society in Psychology. Lisa Marie is a student affiliate of the American Psychological Association, and the American Counseling Association, as well as a member of their respective humanistic psychology and counseling divisions. She is currently a student of mental health and counseling. Her academic interests include mental health counseling, clinical psychology, neuroscience, and research into the therapeutic value of altered states of consciousness, and spiritual and self-transcendent experiences.
Lisa Marie's lifelong interests include philosophy, psychology, and cosmology.
Her favorite quote is from theoretical physicist, Richard P. Feynman:
"This universe has been described by many, but it just goes on,
with its edge as unknown as the bottom of the bottomless sea of the
other idea—just as mysterious, just as awe-inspiring, and just as
incomplete as the poetic pictures that came before.
But see that the imagination of nature is far, far greater than the
imagination of man. No one who did not have some inkling of this
through observations could ever have imagined such a marvel as
nature is."
Lisa Marie states: "the most fascinating aspect of matter, is its capacity to wonder earnestly of itself, and the cosmos."
PRESS:
Lisa Marie's art was first published in Stem Magazine commemorating the Total Solar Eclipse which coincided with her 31st birthday on August 21st, 2017:
A short interview conducted by Charity Cason (2017), a then student of Evergreen State College, can be found here:
http://www.mouseakins.com/blog
Character Strengths
Appreciation of Beauty & Excellence
100%
Curiosity & Interest in the World
100%
Creativity, Ingenuity, & Originality
100%
Fairness, Equity, & Justice
100%
Welcome to a cosmic perspective.